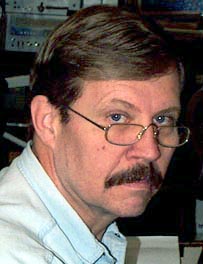 Prior to 1992, we were a pretty normal family. . .

. . .water gardening changed us.

Our water gardening experience began with a leaky waterbed mattress. In a continuing effort to "recycle" items, the mattress was converted to a three-foot diamater pool about 10 inches deep. This pool of water was thought to be an invitation to a friend that we needed a few feeder goldfish. She brought us a dozen, which quickly scampered to hide among the rocks. The next day she returned with a dozen more, which also managed to find places to hide.

I then decided I needed plants to put in the water; then fish would have new hiding places. Knowing NOTHING, I went to a local garden center that was closing out its stock for the season. The only water plants available were waterlilies, and all were untagged. As I examined them, our youngest daughter spotted a frog. She asked the garden center employee how much it would cost to buy the frog. Much to my surprise, he said she could have the frog, but I would have to buy all the lilies in the display. There were a total of 18, potted in six inch pots. He graciously sold them to me for $4 each. What a bargain, I thought, never considering that I only had enough room for one. Then, knowing winter was on its way, we stopped at the pet store on the way home to purchase an aquarium and crickets for our new pet frog, "Buferd."

So much for bargains!
I knew enough to know I didn't know what to do with all of the lilies. I decided Dever Botanic Gardens (DBG) should have someone to give me information. The call to DBG put me in touch with Joe Tomocik, Aquatic Curator, who referred me to John Mirgon of the Colorado Water Garden Society.

John graciously answered questions and finally helped with what seemingly was a simple answer; I would need a larger pond, at least two feet deep to over-winter the fish and an indoor tank about the same size, properly-lighted, to keep the tropical lilies through the winter.

Over the next two weeks, "we" dug our first functional pond, unaware what an obsession we had fallen into.
A decade later we have seven in-ground water features and average more than a three-dozen above-ground water features at any one time. Sizes vary from three-gallon decorative pots to a 1200-gallon Koi pond. Adjacent to the in-ground features we have seven small bog areas.
Some might call me a collector.
I enjoy finding something new and unusual to grow. Each season I find several new plants at area garden centers to try. One year, to find new plants to grow, I explored an Asian market. There I found many common water plants, but one unusual blooming plant in a bag was a true find. It had small trumpet-like flowers, white throated with purple outside petals. Ngo Om, or Rice Patty Herb, originates from Viet Nam.

In addition to a large aquatic plant collection, I also collect chimes, garden art and tabletop fountains. The art and fountains have also become a business for us, marketed through our company, Natural Elements.